Oxycontin Detox and Rehab Treatment
What is Oxycontin
Oxycontin is a painkiller. Oxycontin is prescribed to relieve fractures, pain after surgery, back pain, chronic pain and pain associated with diseases such as cancer. This is a powerful opiate that is a synthetic derivative of morphine. Oxycontin belongs to a class of drugs called opioids such as morphine, codeine, heroin and methadone. Oxycontin is called "Oxy," "OC," "Oxycotton," "Killer," "Kicker," or "Hillbilly heroin" on the street. In 1995, this semi-synthetic analgesic controlled release was created for people who needed pain medicine for 24 hours, to prevent them from taking pills all day. In Canada, the tablets can contain 10, 20, 40 or 80 mg of Oxycontin. A single tablet of Oxycontin can contain as many as 16 tablets of Percocet.
Oxycontin Abuse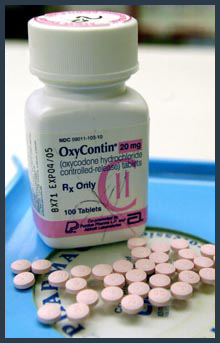 When Oxycontin is ingested, a portion of Oxycontin is released, and the rest is coated and is released slowly into the body. That is why the Oxycontin relieves pain for many hours. Consequently, if its use does not conform to prescribed, Oxycontin can produce euphoria (a "high"), leading to misuse and being addictive. It is also important to know that if they are crushed or chewed, Oxycontin tablets can cause an overdose because too much of the drug is released and then ingested at once. This is very dangerous because it can cause respiratory distress, aphasia (loss of ability to communicate in the language or understanding speech) or even death. Whether with Oxycontin or other painkillers, we can now point out that drug traffickers have moved away from small bags of powder to turn to the pills bottle because no drug they have ever provided as much profit. Oxycontin has become the heroine of modern times.
Oxycontin Side Effects
Mood swings
Drowsiness
Constriction of pupils
Dry mouth
Constipation
Nausea and vomiting
Change in the level of vigilance
Decreased libido
Menstrual irregularities
Muscle spasms
Oxycontin Overdose Symptoms
Slow breathing
Seizures
Dizziness
Weakness
Mental confusion
Cold, clammy skin
Constriction of pupils
Fainting
Coma
Death
Oxycontin dependent, as with other kinds of drugs, can have negative social, financial and emotional factors that are very devastating. To get rid of an Oxycontin addiction or any other painkillers, please call 1 877-909-3636, and our representatives will be happy to assist you.