Family Intervention
When a family member is in trouble or hurting, much less dying, we normally want to gather together and make it all go away. Unfortunately, with addiction it's not that easy.
"I just kept watching her get deeper and deeper in trouble. I could never sleep for wondering if tonight would be the night they'd call and tell me she's dead. Every time I spoke to her about the problem, she would get upset and leave. I didn't know what to do. All I found was pain and despair at watching my baby kill herself and I could do nothing to stop it."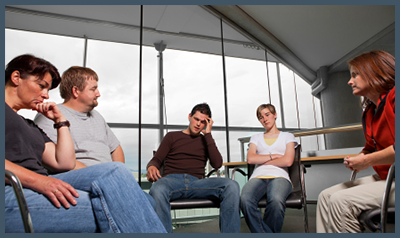 This is a common story. Everyone around an addict knows he/she needs help, but often the addict can't see it. Many die exactly that way. Our goal is to try to provide the family with as much information as possible relating to the intervention process.
"It would be nice to tell you that I did it on my own. It would be nice to tell you that I made some spiritual breakthrough and saved myself, but the fact is that I didn't. My family and friends guided and forced me into rehab and for that I will be forever grateful because I am alive. I live. I enjoy every day now, especially knowing where I would have been had I been allowed to go where the drugs were leading me. My families help will always be a debt I owe because without it I'd be gone."
These following points will also help you better plan a family intervention
Intervention services are made available nationally to assist families through these roughest of times. Call at any time for a personal consultation with an intervention specialist. 1 877-909-3636